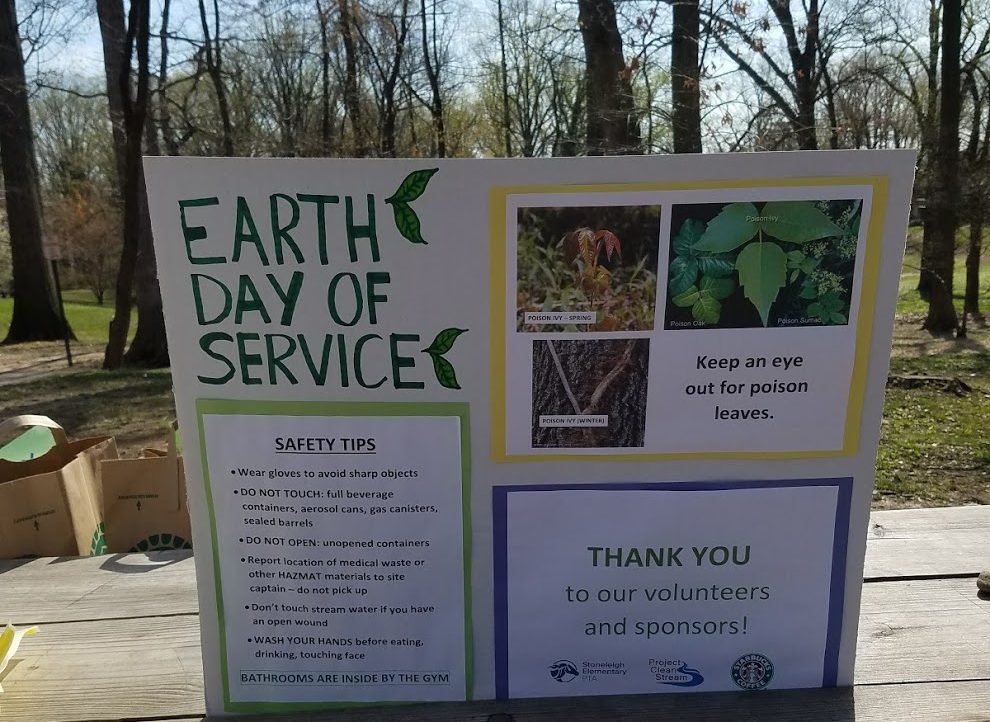 The PTA is ready to host its 3rd annual Earth Day of Service this Saturday, April 6th from 10a-12pm!
Plan to take some time with your family and make a really big difference at the school. Meet by the climbing playground.
Hope to see you there!
Last year, the beautiful weather brought out 65 volunteers—including school parents, students, siblings and teachers—who cleared the school grounds, and especially the stream and surrounding woods, of more than 750 lbs. of trash. Some highlights:
20 full bags of trash and recyclables
Approx. 250 lbs. of scrap metal (including an old downed power line, gutters, several rusty sign posts, and a big barrel)
A few volunteers spent much of their time picking up tiny bits of broken glass in the picnic area below the back playground
Plastic drink bottles, cans, straws and food packaging were the biggest offenders!
And tons of old sports balls: tennis, baseball, lacrosse, playground balls
There was a surprising amount of scrap metal that had been ditched in the woods and stream bed
Attendees learned about the impact of trash on local waterways and the efforts of the Green Committee and the Green Towson Alliance to tackle this and other environmental issues.
The group also got tips on actions we can take in our daily lives to make an impact. After collecting trash, volunteers placed their haul next to signs indicating which of these goals their family would commit to. Here's what they said they'd do:
No more plastic straws – 50%
Use reusable shopping bags – 5%
For pictures of last year's event, check out the Earth Day Photo Album!